Holiday Schedule for daily Yoga classes
Holiday Schedule for daily Yoga classes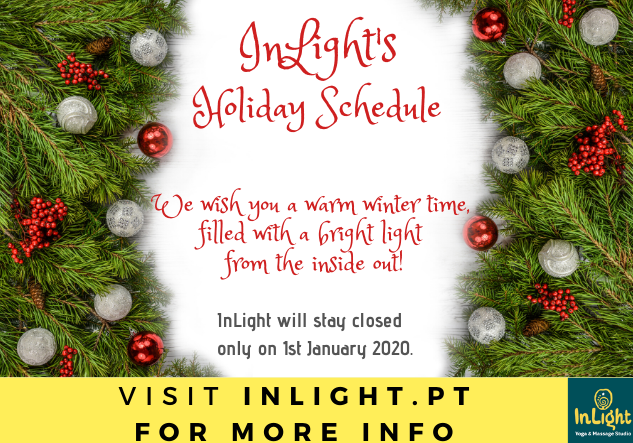 Viva loyal Friends of InLight!
This year we received many requests to stay open over the upcoming Xmas holidays.
So we have worked out a schedule with one daily morning yoga class at 10am from 22nd December 2019 till 5th January 2020 inclusive with the regular schedule back on from 6th January. The InLight's website reflects the daily classes and teachers – all from the established InLight team except for one new interesting teacher from Stockholm: Andrea Bognár – and also some special events!!  InLight will be closed for yoga classes only on 1st January 2020. Sounds good?
However, some teacher's whose unique class offers can't easily be replaced will be away for more than just a couple of weeks.

Therefore the following classes will be paused for longer:
* Cony's popular Tantra & Kundalini Yoga classes from Thu, 28.11.19 – 30.1.20 inclusive
* Becca's 5 Elements Yoga from December till beginning of March. We are fortunate to host unique New Frequency attunements with Edina Kozma instead on the Tuesday noons, running throughout the holidays – and starting even a weekly evening classes from 2nd January every Thursday at 8pm.
* Urbano's Tai Chi and QiGong classes will take place one last time on 9th and 11th December and recommence only in March 2020. Update: Lisa Francesca is carrying on with the Monday morning QiGong classes throughout, except on 30.12.
* Also Ivana is spoiling herself as usual with an Indian winter, but we'll have Puck step in to continue with the so important Alignment Yoga classes on Thursdays at 12.30pm from January till beginning of March 2020.  NAMASTE!
Massages & special Treatments can be booked throughout
as much as we have therapists available to allow you to spoil yourself and your loved ones also during the holidays.

InLight Lagos and its team of teachers & therapists wishes you, your family and friends a warm winter time, filled with a bright light from the inside out. 
We hold you close in our hearts! A magnificent New Year is on its way, be ready to ride the wave.